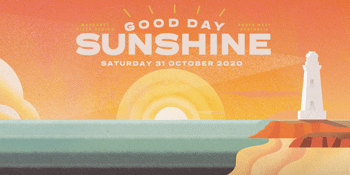 Macro Music presents
Good Day Sunshine Festival
JOHN BUTLER • XAVIER RUDD • JOSH PYKE • VIKKI THORN • KYLE LIONHART • DULCIE • MOON & HONEY
Barnard Park (Busselton, WA)
Saturday, 31 October 2020 12:30 pm
GOOD DAY SUNSHINE FESTIVAL 31.10.20
• JOHN BUTLER • XAVIER RUDD •
• JOSH PYKE • VIKKI THORN • KYLE LIONHART •
• DULCIE • MOON & HONEY •
- - - - - - - - - - - - - - - - - - - - - - - - -- - - - - - - - - - - - - - - - - - - - - - - - -- - - - - - - - - - - - - - - - - - - - - -
Hot on the heels of
Here Comes The Sun
and
Sugarloaf Rock festivals
, the Margaret River region continues its run as the live music hot spot of spring with the announcement of
Good Day Sunshine Festival
.
Taking over the beautiful grounds of Barnard Park on the Busselton Foreshore on Saturday, October 31st, 2020,
Good Day Sunshine
features the absolutely stellar lineup of John Butler, Xavier Rudd, Josh Pyke, Kyle Lionhart, Dulcie and Moon & Honey... plus a glorious array of local artisan food, drink, stalls and artists.
In a world-first, Good Day Sunshine will bring you the first Covid-safe festival format;
The Turntable
Usually reserved for MASSIVE international stadium artists, our new "in-the-round" format will see the event site split into 4 equal areas, each named after a famous surf spot in the south-west… Cobblestones, The Point, Windmills and Injidup, with a revolving stage in the centre, aptly named The Turntable.
Each area will operate as an individual venue, hosting its own entry, exit & amenities resulting in shorter wait times for bars, food & loos, limiting audience interaction while maximising the music festival experience.
Get ready to be a part of history! Western Australia is leading the world in a covid-safe easing of restrictions, and while the rest of the world (and even parts of Australia) are still in lock-down and only enjoying "live" music experiences through their computer screens or car windscreens, we're pleased to present a music festival designed to take place within Phase 4 restrictions.
-------------------------------
Head to gdsfest.com for more information on Venue Change, Festival Guides and FAQ's